Implementing RAID1 on Windows Server 2003
Setting up a RAID1 (software) array on Windows Server is a straight forward task. RAID1 or disk mirroring provides fault tolerance in the event of a single disk failure, the mirror would become the lifeline keeping the server functional.
RAID is not backup, you still need to perform backups to an external device or separate drive.
For this tutorial I will be using two identical size hard drives in which drive 1 will mirror drive 0.
Steps
Go to: Start > Administrative Tools > Computer Management.
On the Computer Management window click on Storage > Disk Management. You can see we have two disks 0 and 1. On disk 0 right click on the grey area and select Convert to Dynamic Disk…
I recommend you convert to both disks to dynamic Disk 0 and Disk 1 since you have to do it anyway and select OK.
You are presented with a list of the drives that will be converted to dynamic. Select Convert.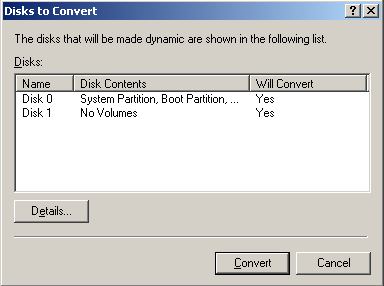 Click on Yes to convert.
Click on Yes to dismount all file systems.
Click on OK to restart the system.
Windows will reboot and once again prompt you to restart the system once it finishes installing new devices. Click on Yes to restart.
And now we RAID
Now, we are ready to RAID the two drives. Go back to Start > Administrative Tools > Computer Management > Storage > Disk Management. Right click on Disk 0 aka the C drive box and select Add Mirror…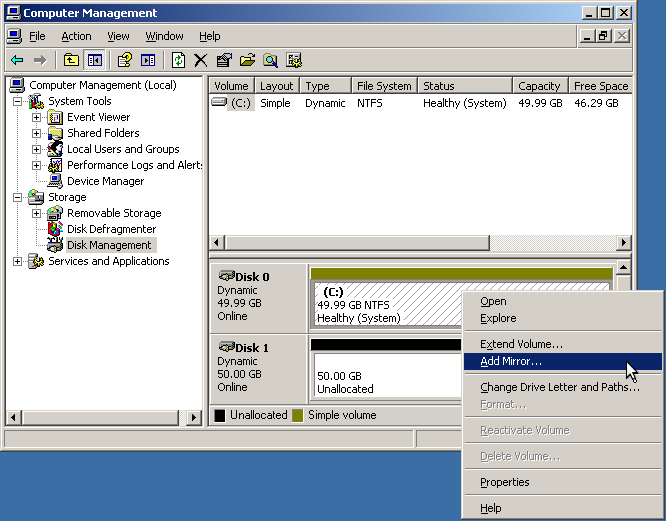 Click on Add Mirror, don't forget to select Disk 1.
Wait for the drives to Resync.
Once the drives are done resynching you will have a mirrored system.
From now on the system will see the array as a single drive.
Congratulations, you have added another layer of protection to your system. Latest Edit: 8/18/2010